"Ordered this as a gift for my mother-in-law. Rachel made sure I loved the custom dog portrait. She went above and beyond to make sure it was perfect! When one of my neighbors got my package and didn't return it to me, Rachel did everything she could to make the situation right and was SO kind and understanding through the entire process. I highly recommend her for all of your custom portrait needs!!"
⭐⭐⭐⭐⭐ - Kaliegh H, Phoenix, AZ
"I commissioned a mug for Father's Day and Rachel did a beautiful job capturing my husband and son's image. I'm so excited to give it to him! The design process was easy and Rachel was awesome."
⭐⭐⭐⭐⭐ - Bevin C, Normal, IL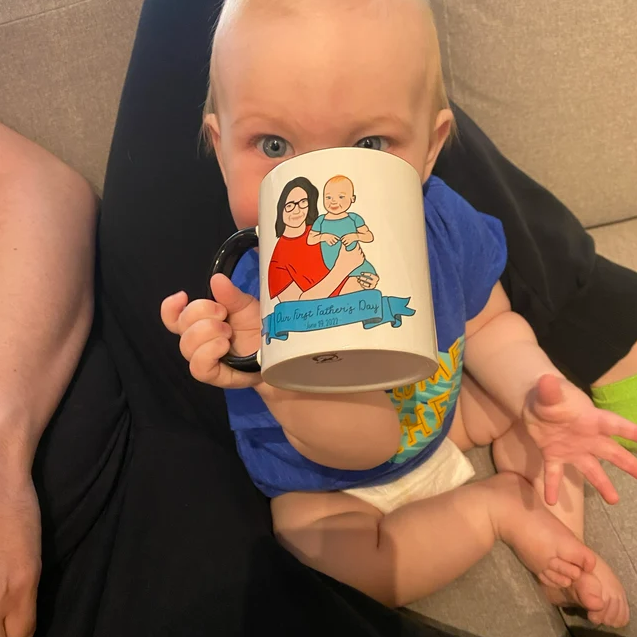 "Absolutely LOVE our poster 😭🤍 going to use this as our wedding guest book. Rachel went above & beyond for our poster!! My fiancées dog unexpectedly passed away in March. He had him for 13 years so it was and still is really hard for him. We were going to include the pets in our wedding somehow so we decided on this. Rachel was able to add the halo I requested for Chester and it was the perfect touch. My fiancée was so happy when he saw it , it meant so much to him! The cats she captured them and their personalities so perfect! I'm so excited for our friends and family to see this at our wedding. Thank you so much again Rachel! 🤍"
⭐⭐⭐⭐⭐ - Valerie S, Bellflower, CA
"Blown away by this item and the customer service received! Rachel is determined to make the custom portrait exactly what you want and better. She is also extremely kind and fun to work with. The mug is heavy-duty and large too, perfect for my coffee needs. :)"
⭐⭐⭐⭐⭐ - Kaliegh H, Phoenix, AZ
"I love this product. I will absolutely be buying from (Rachel) again. What I loved most was the artist was patient with me, she wanted to make me and my significant other happy. She got all of the details, and put lots of work and patience into this art work. I am pleased and will be showing my guest book off!"
⭐⭐⭐⭐⭐ - Kylie L, High Point, NC
"Rachel is a really kind, caring and talented person! She was so nice with me and very patient. Absolutely love how it turned out. My mum loves it!! I can't thank you enough 🥺💞"
⭐⭐⭐⭐⭐ - Andreagiulia S, Porzano di Leno, Italy
"I cannot say enough amazing things about Rachel! she was incredibly responsive, and even turned this listing into wine labels for our upcoming wedding. so excited to display these on the bottles!"
⭐⭐⭐⭐⭐ - Christina P, Ontario, Canada
"Happy father's day to Chad! Finally I can share his gift!!!! I'm glad you love your gift! This is framed and will be proudly hung in our living room!!!"
⭐⭐⭐⭐⭐ - Amy B, Bloomington, IL
"I am a 'Rookie' at the hand crafted process. Not only did Rachel make a one-of-a-kind present, she was incredibly thoughtful, patient and kind - an absolute DREAM artisan!"
⭐⭐⭐⭐⭐ - David F, Wilmington, NC
"I can't say enough about how much I love Rachel's designs for my website. She put her talent and heart into all of the graphics and it shows! Rachel is super easy to work with and understands how important it is to 'get' you. We all have different visions and Rachel is someone who can make yours come to life."
⭐⭐⭐⭐⭐ - Emily O, Jacksonville, FL